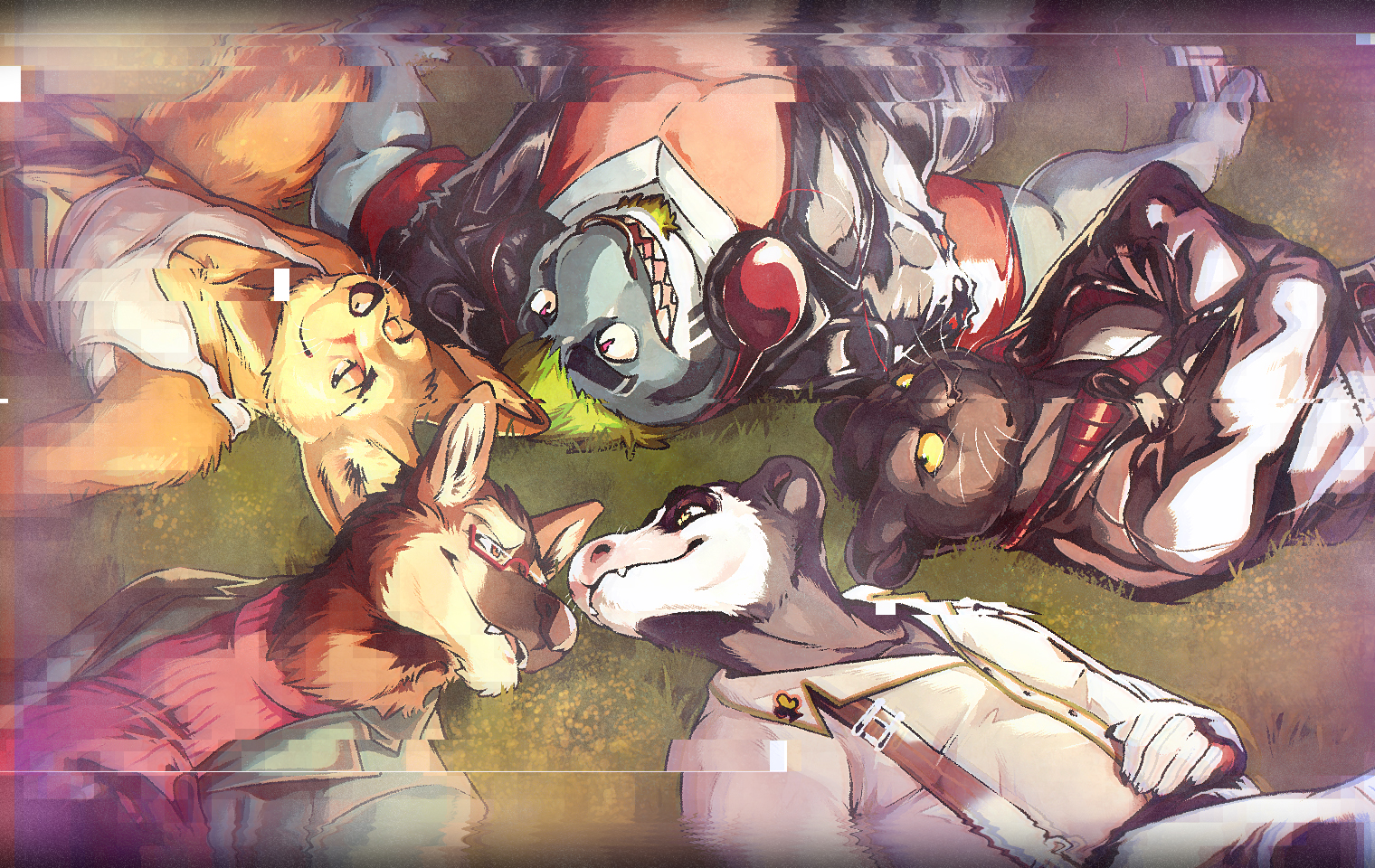 Burrows
Hello, everyone, Nikko here! This is my very first devlog so forgive me if it's not not as concise as you'd prefer. Still learning new stuff about this app and the VN community every day, haha.

So first off, a list of the major changes/updates to the project in 0.2
1. Story Update: Mark Day 2
The second chapter of Mark's route has been added to the main game, so you may continue your playthrough directly from your demo save data! This day features new characters, music and outfits so please enjoy! More character's routes will be added over time but for now we are focusing on this story path, eventually you will be able to pick all 4 routes from the card section. *KEEP IN MIND* choices you make on each day will be saved and will affect your story path in later updates. If you're unsure about a choice, make multiple save files!

2. UI Updates: Title Screen and NSFW filter
Since we're no longer in the 'demo' phase it didn't make sense to keep the old title screen, so...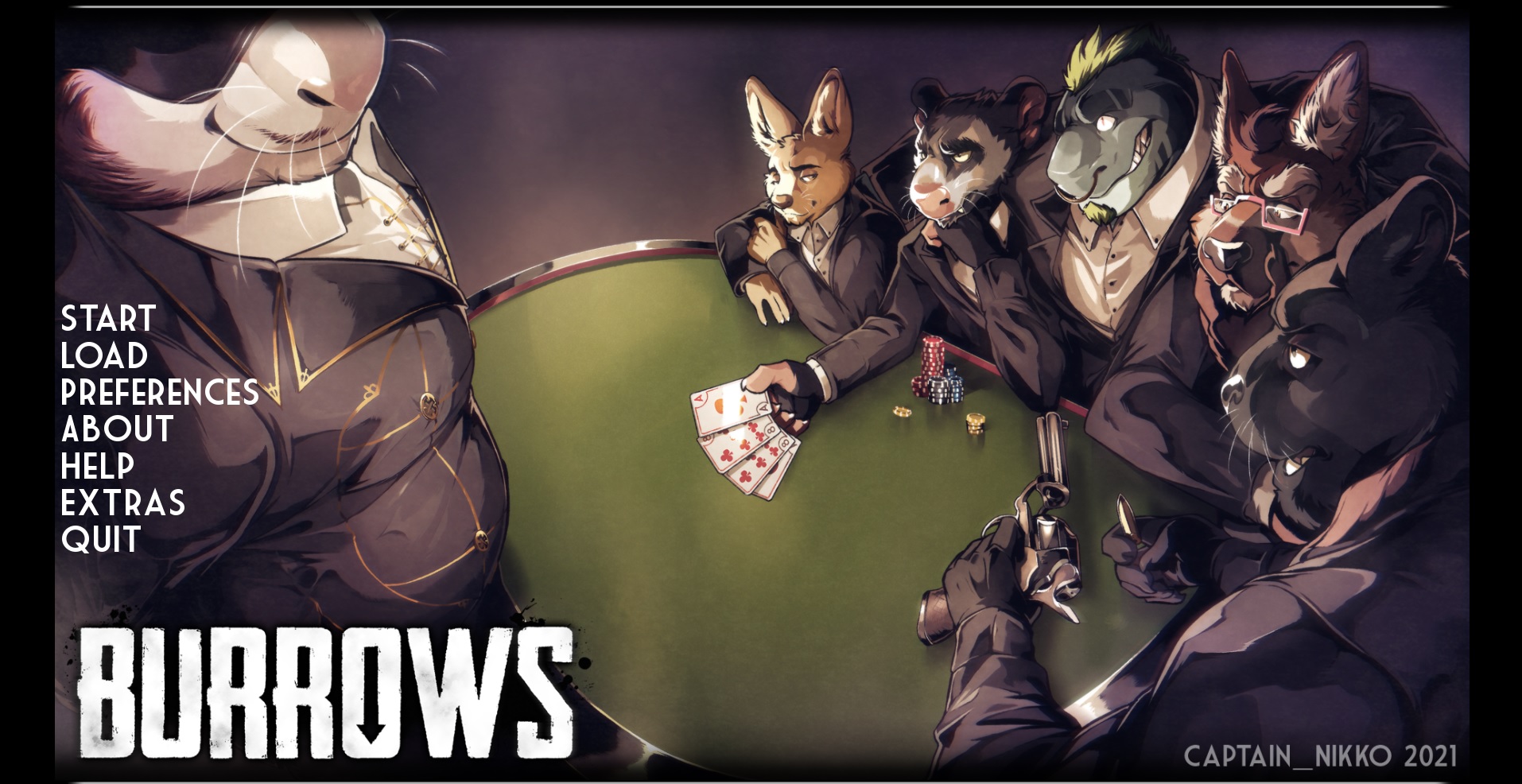 Voila! I hope you enjoy the new visuals to go with Anthemics' great title theme. We get a good look at our main cast and a slick menu designed by Wattson and I.

Along with that, we've also added an NSFW toggle in the preferences menu.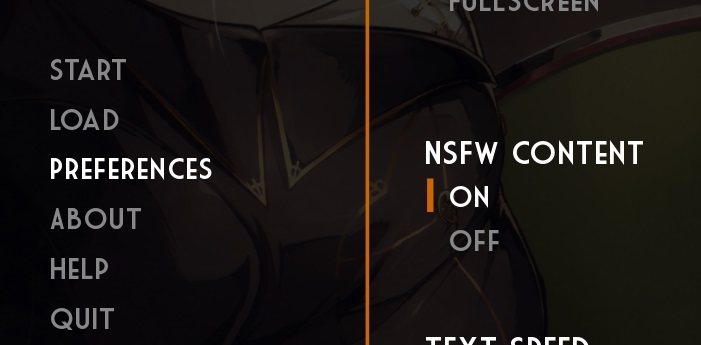 I want to be very CLEAR about this: the NSFW toggle does NOT remove gore, adult language or mentions of sex, drugs and other story-relevant topics. What it DOES do is censor nudity and skip optional sex scenes. This game is still 18+ and NOT intended for minors. The toggle is for people who still want to enjoy the story without seeing the adult sections of the game. Again, this does NOT mean the game as a whole is SFW or intended for minors to play.
3. Android Build
We're also super excited to share that we have a working android build included in this update (courtesy of Blaboole who gave our team a super helpful demo!) It's still a new feature for us so if you notice any consistent bugs/errors let us know!

With that said, the holidays are upon us and work has picked up so the next update for the game might take a bit longer. This is a new project and the energy is high, but nobody on the team wants to get burnt out this early on. If you want to stay up to date with the status of the project and support us while getting a first look at new assets and EARLY access to new builds, please support us on patreon: https://www.patreon.com/burrowsvn
Patrons also have access to exclusive channels in the official Burrows Discord community server! (https://discord.gg/bRvwMRzg)
And for everyone else, our main social hub is our twitter: https://twitter.com/Burrows_VN
Thank you so much for making our first build a hit and we hope you continue to enjoy the project.
-Nikko
Files
Burrows-0.2-mac.zip
224 MB
Nov 26, 2021
Burrows-0.2-pc.zip
258 MB
Nov 26, 2021
Burrows-0.2-Android.apk
243 MB
Nov 26, 2021
Comments
Log in with itch.io to leave a comment.
Okay now I played it and it's actually pretty cool. First time I get creeped out by scary art in a while.